ESCON PLANT ENSURES IMPECCABLE QUALITY OF ITS PRODUCTS AND THEIR COMPLIANCE WITH THE MOST STRINGENT REQUIREMENTS.
Supports of contact lines
The following types of supports can be manufactured: suspension, large-span, tension, bracket, as designed for AC and DC areas as well as for frame and beam portal structures.
For speed sections with high strain of wires it is recommended to install tension supports with minimal capacity 10 tf m. Large-span support poles at speed sections should be of dual free-standing type with a distance between them 1.5-2.0 meters to fix an operating and anchored branch respectively.
Materials and marking
Metal supports have a box-like section with bands from roll-formed channel as per GOST 8278-83 and hot-rolled channels as per GOST 8240-97 and are produced in compliance with the specifications TU 5264-866-01393674-2012. Project No 6226 «и».
The support design involves steel "С245" GOST 27772, grade "Ст3пс5" from the plates as per GOST 380-94 to be used at the ambient rated temperature down to minus 40C as well as steel C345 GOST 27772, grade "09Г2С", for using at the rated ambient temperature down to 65C. The supports are hot dip galvanized.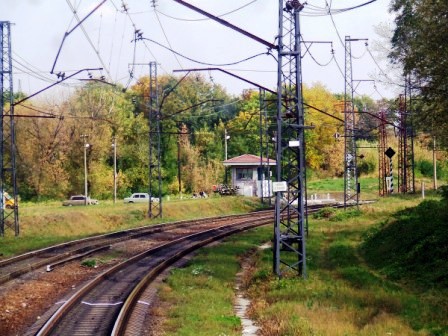 The supports marking contains their grade as per GOST 26047. The grade consists of letter-digit groups separated by hyphens.
The first group includes the Russian letter identification of the support type:
"M" stands for a metal bracket support with roll-formed channel bands
"Ш" stands for a band from hot-rolled channel
"П" stands for portal construction
"Г" stands for a bent channel
"K" stands for a bracket support
"C" stands for a low-alloy steel
Digits 10 and 12 in the second group indicate the support length in meters as rounded to integer number.
The third group of digits stands for the capacity of supports in kNm (60,80,100,120,150).