ensures high output and guaranteed accuracy of production.
The process is arranged according to LEAN production principle. Development of high-quality in-house design and engineering documentation, use of 3D automated design and obligatory fit-up assembly test ensure high precision of order fulfilment in the workshop as well as fast assembly on-site.
The plant comprises: production building including galvanization shop, assembly and welding shop and fabrication shop; administrative and amenities building;
boiler station with power generators and compressors; gas distribution point;
security building with controlled access; diesel substation; railway line.
Peddinghaus automated process lines complex for angle bars
Ensures performance of several process operations: cutting and drilling up to 3 holes of various diameters. Is designed for processing rolled stock of various sections. Max dimensions of processed rolled products are from angle No. 4 (40х40х3 mm) to angle No. 20 (200х200х25 mm).
Peddinghaus automated plasma process machines for flat products
Ensures performance of several process operations: cutting and drilling of holes up to 9 various diameters, deep drawing. Max dimensions of processed rolled
 stock are 2500x6000 mm. Plasma cutting thickness from 3.2 mm to 75 mm.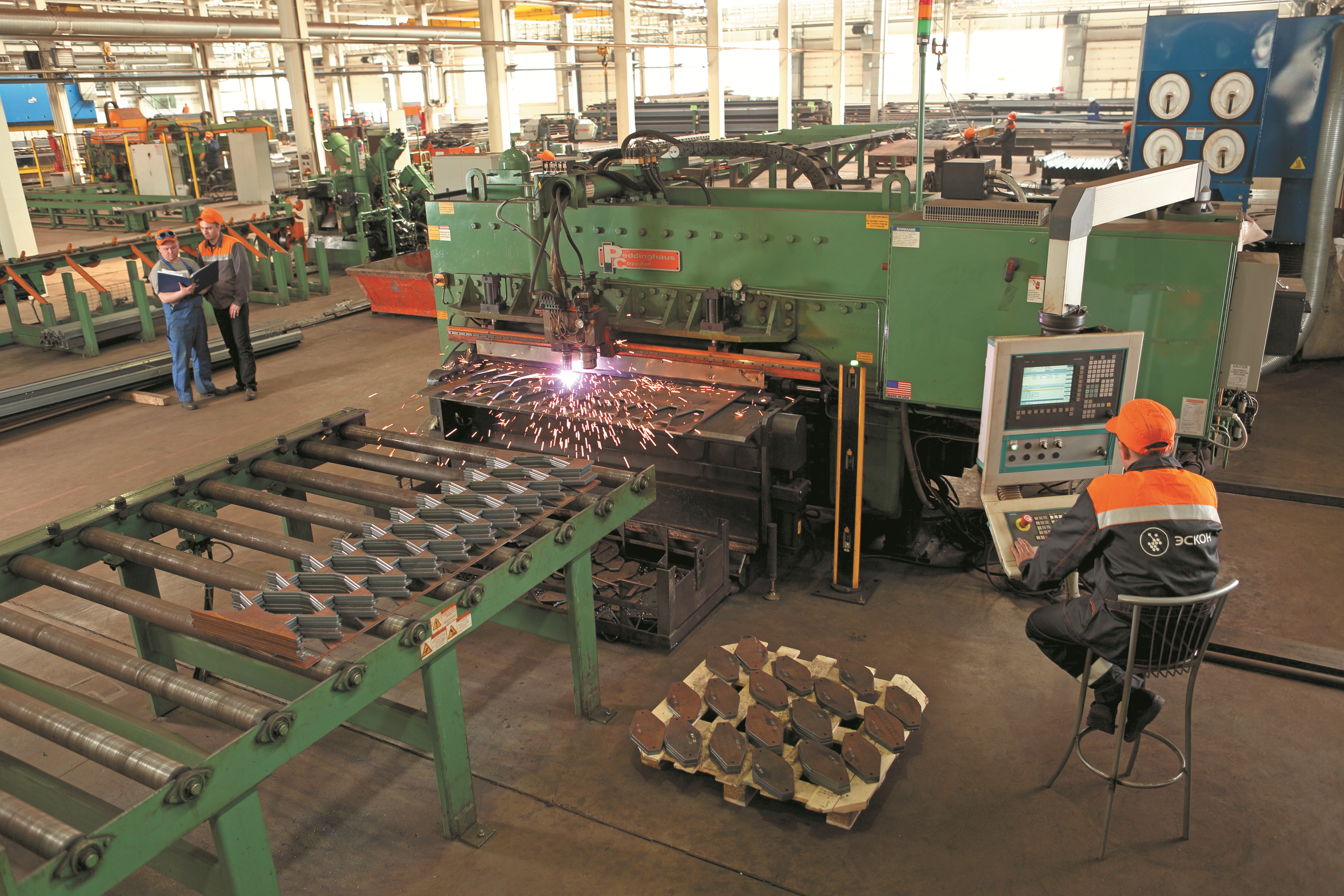 Peddingmax universal hydraulic presses complex No.1
Hydraulic presses allow punching and cut-off of wide range of semi-products: rolled stock, angle bars, U-profile, flange beams, disc. Working door is 200x510 mm, max thickness of a sheet is 32 mm.
Peddinghaus automated line PCD 1100/3С АТC
A tandem of three spindle drill and band saw machine allows  simultaneous 3-axis drilling, cutting and deep drawing. Min dimensions of a semi-product are 50x460x1632 mm. Max dimensions of a semi-product are 630x1100x12500 mm.
Sheet bending machine by Colly BOMBLED
Max length of a processed semi-product is 12000 mm. Max thickness of rolled products is 15 mm. Min thickness of rolled products is 0.5 mm. Max bending diameter is up to 1500 mm. 
 Working door is 1400x1600 mm.  
 Machine complex for producing welded flange beams
Analogs acc.to GOST 26020-83: from 20К1 to 45К5; from 30Ш1 to 70Ш5; from 50Б1 to 100Б4; from 30ДШ1 to 50ДШ1. Analogs acc.to STO ASChM 20-93: from 20К1 to 40К5; from 30Ш1 to 100Ш4; from 40Б1 to 70Б2.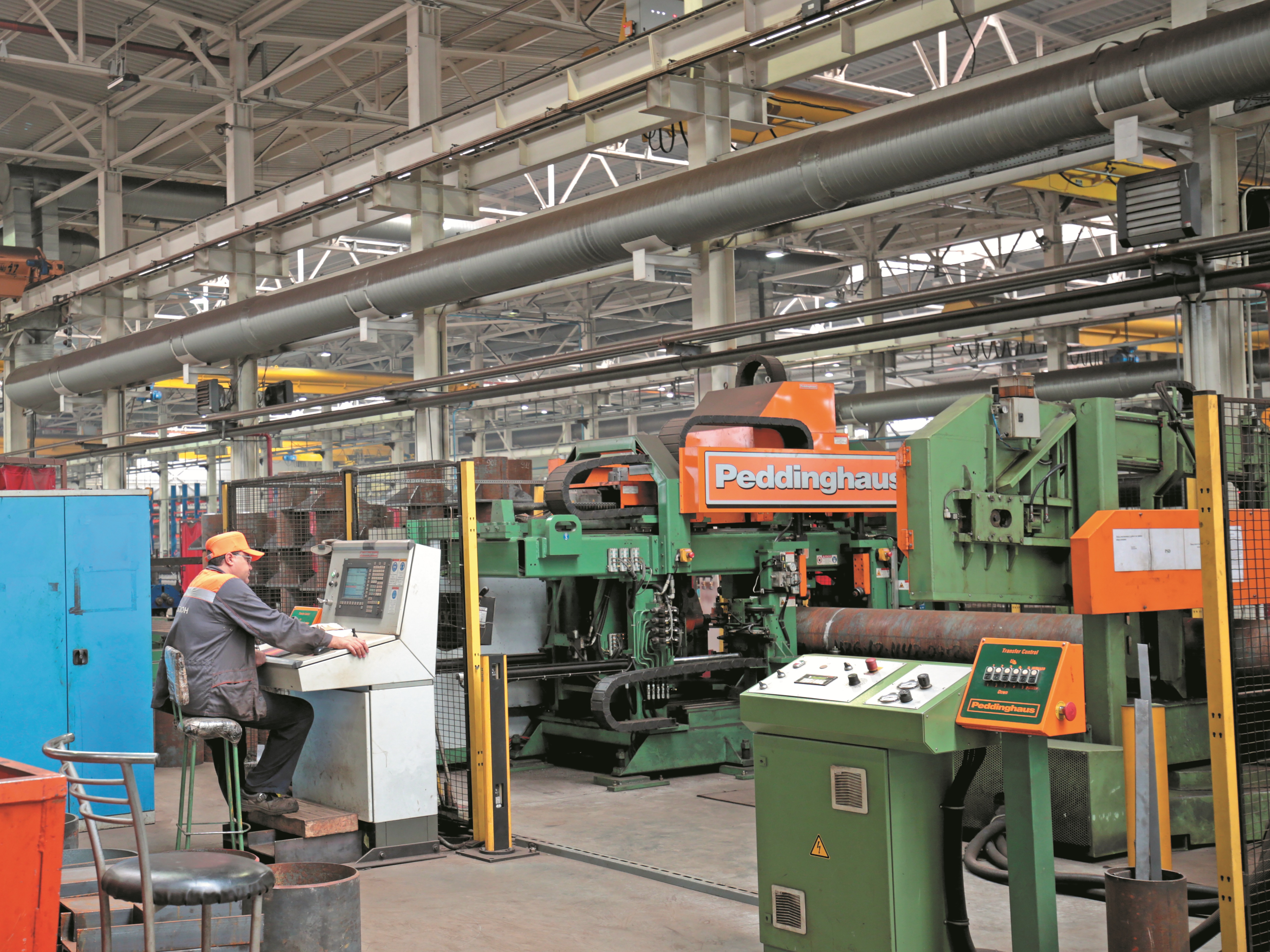 GZ-4000 gas cutting gantry
HG-1800 gantry for assembly of flange beams
MZG-2x1000 gantry machine for arc welding
JZ-40А gantry for flattering flange beam

UZ-15 automated edge former (with 3-D manipulator)
Assembly and Welding operations
When producing welded metal structures at the Plant "ESCON" special attention is paid to the quality of weld joints. Only NAKS certified materials, procedures and equipment are used for welding operations.
Welding semi-automated equipment by KEMPPI. Synergetic welding modes with adjusted control.
Automated complex for preparing welding mixture, allows controlling welding mixture composition.
Blasting machine for flat and profile rolled products
The machine is used to remove rust, scale, burn-on, old paint. Permissible dimensions of flat rolled product: width 2500 mm, length up to 12000 mm. Permissible dimensions of profile rolled product: width up to 1200 mm, height up to 500 mm, length up to 12000 mm. 
Flattening machine for plates 6-25*1600
The machine is used to flatten plates by means of cold rolling method. Permissible plate thickness is 6-25 mm. Permissible plate length is up to 12000 mm.
Auxiliary equipment complex. 
Accuracy of geometric dimensions is achieved through using universal assembly fixtures and testing benches.